Grocery Essentials, Health Care, Diet & Nutrition
Protinex Vanilla Delight Health And Nutritional Drink, 250g
About the brand: A flagship brand of Danone, Protinex has more than 60 years' experience in partnering Indian Adults in their nutrition journey. Protinex offers a range of protein-rich nutritional powders for adults

HELPS Build IMMUNITY: Protinex Vanilla Delight is an adult nutritional drink mix that is clinically proven to provide 34% higher immuno boosters that help build immunity

High protein and 10 immuno nutrients that helps build immunity, builds strength, and provides energy

ZERO ADDED SUGAR FOR IMPROVED HEALTH: Zero added sugar makes this delicious Vanilla flavored nutrition drink healthier than before. Stay healthy without compromising on taste

Protinex has Protein, Calcium, B Vitamins & Minerals like Iron, Potassium that support growth & maintenance of muscle mass, strengthen bones, improve metabolism, maintain fluid & electrolyte balance, and contribute to blood cell formation

Protinex is a vegetarian drink mix. Ready to serve Nutritional beverage mix, Soyabean based Beverage mix (6.8.1), proprietary food with low fat and high protein. Protinex should be consumed as part of a well-balanced diet and healthy lifestyle. Consists of 22 essential vitamins and minerals which help improve the overall health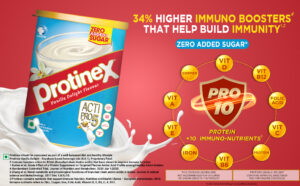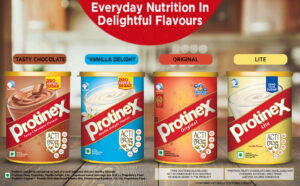 Why Nutritional focus is important for Adults?

Typical Indian is undergoing a nutritional shift, resulting in a diet that is nutritionally deficient in essential vitamins & minerals, has low fiber, low protein and high fat & high sugar. Nutritional drinks that are rich in nutrients like Protein, Vitamins and Minerals help you to bridge this gap and meet the daily dietary recommendations.

Why Protein is important?

Protein helps in building immunity, growth and development, maintenance of muscle mass, transport of oxygen, maintaining healthy hair and nails, and is a source of energy. Too little protein in diet may lead to symptoms of weakness, fatigue and poor immunity. Since protein is not stored in the body, it becomes inevitable that it must be consumed daily.

What are the other important nutrients?

Vitamins and Minerals are important micro-nutrients that are needed for the healthy functioning of the body. Vitamin A, C, D, K, E, B6, B12 are helpful in building immunity, bone strength, and functioning of the central nervous system. Minerals like Iron, calcium, phosphorus are also helpful in building immunity.
SUPPORTS IMMUNITY

Enriched with high protein & vitamin A, C, E, & other immuno-nutrients³ that help build immunity, thus improving overall health. Excellent addition to your daily diet for a healthy and balanced lifestyle.

BUILDS STRENGTH

Contains high protein that helps support growth & maintenance of muscle mass. Calcium, Vitamin D, Vitamin K, and phosphorus keep bones strong, and help you in being ready for all challenges of everyday life.

PROVIDES ENERGY

Stay energetic with Protinex Original. Formulated with high Protein, 17 essential vitamins including 8 Immuno nutrients³ and minerals to keep you active and going.