Cereal & Muesli, Grocery Essentials, Muesli
Kellogg's Muesli With 20% Nuts Delight, 500g
Nourishing & Tasty Breakfast Cereal – Say Hello to a delightful breakfast, filled with multigrain goodness that will jump-start your mornings and get you ready for the day. It is infused with the goodness of multigrain and 20% Almonds and raisins, making for a nourishing and a tasty meal.

Made of Five Nutritious Grains – 'Kellogg's Muesli 20% Nuts Delight' comes with the goodness of five baked grains (Wheat, Corn, Rice, Barley and Oats), crunchy Almond and raisins It is carefully crafted for flavor and texture.

Packed with Nutrients – 'Kellogg's Muesli 20% Nuts Delight' is High in Fibre, Vitamin C, Vitamin B1, B2, B3, B6, folate and Iron.

3 Ways to Enjoy Muesli – Its beauty lies in its simplicity! Have it right out of the bag or have it in a bowl and pour some milk on it or couple it with yogurt. Just take a handful of Kellogg's Muesli and feel nature's bounty in its grainy and nutty goodness!

Naturally Cholesterol Free– 'Kellogg's Muesli 20% Nuts Delight' is naturally cholesterol-free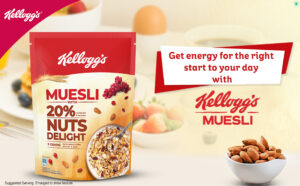 Muesli Mango Smoothie Bowl

Ingredients: 1 cup Kellogg's Muesli 20% Nuts Delight, ½ cup coconut milk, 1 large ripe mango, 2 ripe bananas chopped and frozen, 1 tbsp chia seeds, 1-2 tbsp honey, Dried cranberries, Fresh strawberries, mango & mint leaves for garnish

Method:

Step 1: Place chopped mango, bananas, chia seeds, honey and coconut milk in a blender. If you do not have coconut milk, you can use regular milk.

Step 2: Blend at high speed until smooth. Add more coconut milk if required. Once smooth, pour into a bowl.

Step 3: Top it up with Kellogg's Muesli 20% Nuts Delight, dried cranberries, fresh mango, strawberries and mint leaves.

Step 4: Serve immediately.

Spiced Orange Bircher Muesli

Ingredients: ½ cup Kellogg's Muesli 0% Added Sugar, ½ orange, ¾ cup almond milk, ½ tsp nutmeg powder, ¼ tsp cinnamon powder, Figs for garnish.

Method:

Step 1: Add Kellogg's Muesli 0% Added Sugar to a mason jar and pour some almond milk on it. If you don't have almond milk, you can use regular milk as well.

Step 2: Add nutmeg & cinnamon powder and mix the ingredients well. Squeeze half an orange on the mixture. Refrigerate the jar and leave it overnight.

Step 3: Next morning, top up your bircher muesli with figs, chopped walnuts and a dash of honey for natural sweetness. Enjoy the delicious multigrain breakfast

Coconut Muesli Parfait

Ingredients: 100g of Kellogg's Muesli with 21% Fruit & Nut, 100g frozen coconut Yoghurt, 15g jaggery powder, 10g chia seeds, Fresh passion fruit puree, For garnishing: Fresh raspberries & blueberries, 1 Passion Fruit, 5 ml Honey

Method:

Step 1: Whisk frozen coconut yoghurt until smooth in texture. Add powdered jaggery as per the desired sweetness. Set aside to cool.

Step 2: Prepare the parfait by layering verrine glasses with chilled coconut yoghurt, chia seeds and Kellogg's 21% Fruit & Nut Muesli. Pour in freshly squeezed passion fruit juice.

Step 3: Garnish with fresh berries and passion fruit. Drizzle some honey on top. Enjoy your Muesli Coconut Parfait!