Cereal & Muesli, Flakes, Grocery Essentials
Kellogg's Corn Flakes with Real Strawberry Puree, 575g
Kellogg's Corn Flakes with Real Strawberry Puree is tasty and nourishing.

It is prepared from corn, with iron and key essential vitamins like Vitamin C and B-Group vitamins. It provides a balance of taste and nourishment.

Ready-to-eat breakfast cereal.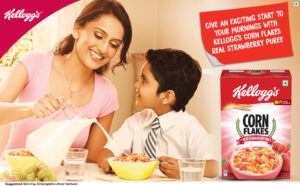 Recipes to Enjoy!
Cornflakes Rainbow Smoothie Bowl

Ingredients: Curd -200g, Chia seeds (soaked)-5 g, Kellogg's Corn flakes- 20g, Dates (de seeded)- 20g, Juice of fresh beetroot- 5ml, Dragon fruit- 50g, Grapes- 4, Strawberries- 5, Kiwi- 1/2, Almonds- 10, Pumpkin seeds- 5 g, Roasted dessicated coconut- 5 g, Sugar- 5 g

Method:

Step 1: Mix all the ingredients in a blender except chia seeds, corn flakes and some part of each fruit.

Step 2: Add to the bowl add chia seeds, all corn flakes.

Step 3: Decorate beautifully with fruits of your choice and refrigerate for 5 mins. Enjoy cool and fruity Kellogg's fruity mix.

Honey Almond Shake

Ingredients: 30 g Kellogg's Corn Flakes Real Almond and Honey, 200 ml milk, One Apple, 6 almonds Honey to drizzle

Method:

Step 1: Blend the corn flakes, apple and milk together in a blender. Pour in a tall glass.

Step 2: Drizzle with honey and garnish with chopped almonds.

Kellogg's Corn Flakes Fruity Yogurt Cup

Step 1: Whisk together the curds, sugar and vanilla essence.

Step 2: Pour half the curds into a cup.

Step 3: Top with Kellogg's Corn Flakes and then the remaining curds.

Step 4: Finally, add the mixed fruits and serve immediately.