Cereal & Muesli, Flakes, Grocery Essentials
Kellogg's Corn Flakes Real Almond Honey, 1kg
Nourishing, Tasty & Healthy Breakfast Cereal – Milk with Almonds and Honey tastes yummy all through the year. And so, we got local chefs to put together a delightful combination of Kellogg's Corn Flakes with Real Almond Honey. Enjoy it with warm or cold milk and add some great taste to your busy mornings

Packed with Nutrients – Now don't compromise on morning nourishment with Kellogg's Corn Flakes Real Almond Honey. It is not only yummy but is also High in Iron, Vitamin B1, B2, B3, B6, C and a source of Vitamin B12 and Folate.

Naturally Cholesterol-free – 'Kellogg's Corn Flakes Real Almond Honey' is naturally cholesterol-free

Made from the select Grains – Making these Corn Flakes starts from the sun ripened corn. The selected grains are then cooked and lightly flattened, and finally they are gently toasted to develop your delicious golden cereal. It contains delicious honey and real almonds.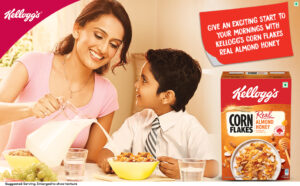 Cornflakes Rainbow Smoothie Bowl

Ingredients: Curd -200g, Chia seeds (soaked)-5 g, Kellogg's Corn flakes- 20g, Dates (de seeded)- 20g, Juice of fresh beetroot- 5ml, Dragon fruit- 50g, Grapes- 4, Strawberries- 5, Kiwi- 1/2, Almonds- 10, Pumpkin seeds- 5 g, Roasted dessicated coconut- 5 g, Sugar- 5 g

Method:

Step 1: Mix all the ingredients in a blender except chia seeds, corn flakes and some part of each fruit.

Step 2: Add to the bowl add chia seeds, all corn flakes.

Step 3: Decorate beautifully with fruits of your choice and refrigerate for 5 mins. Enjoy cool and fruity Kellogg's fruity mix.

Honey Almond Shake

Ingredients: 30 g Kellogg's Corn Flakes Real Almond and Honey, 200 ml milk, One Apple, 6 almonds Honey to drizzle

Method:

Step 1: Blend the corn flakes, apple and milk together in a blender. Pour in a tall glass.

Step 2: Drizzle with honey and garnish with chopped almonds.

Kellogg's Corn Flakes Oriental Corn Stir-Fry

Step 1: Heat the oil and butter in a wok/ kadhai, add garlic, onions, bell peppers, broccoli baby corn, bean sprouts and corn flakes then stir fry on high flame for a for 2 minutes.

Step 2: Add basil leaves, chili flakes, soya sauce, vinegar, sugar and salt and toss well.

Step 3: Stir fry for another few seconds and serve hot.