Cereal & Muesli, Flakes, Grocery Essentials
Kellogg's Corn Flakes Original, 475g
Kellogg's Corn Flakes is a nourishing and tasty ready-to-eat breakfast cereal which is High in Iron, Vitamin C and key essential B group Vitamins such as B1, B2, B3, B6, B12 and Folate.

Kellogg's Corn Flakes Original is naturally cholesterol free. It contains only 1% Fat. You can count on Kellogg's for a great tasting and convenient breakfast that is nourishing.

These corn flakes are made from sun ripened corn. The selected grains are cooked, flattened and are gently toasted to develop into your delicious golden crispy cereal.

Kellogg's Corn Flakes is a quick and convenient breakfast option that is ready in minutes.

Serve it with milk or curd/yoghurt and top it with fresh fruits such as bananas, strawberry or mangoes, dry fruits, honey and enjoy a nourishing breakfast.

Break the monotony of breakfast and use Kellogg's Corn Flakes as a nourishing/tasty ingredient in a variety of recipes. Crunch up your Chana Chats, Fruity Yoghurt or Stir Fry with Kellogg's Corn Flakes and enjoy it at breakfast, lunch or dinner. Use it to prepare various tasty delights loved by kids and adults alike.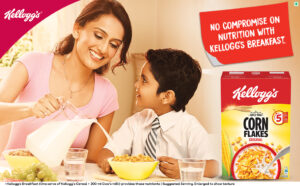 Recipes to Enjoy!
Cornflakes Rainbow Smoothie Bowl

Ingredients: Curd -200g, Chia seeds (soaked)-5 g, Kellogg's Corn flakes- 20g, Dates (de seeded)- 20g, Juice of fresh beetroot- 5ml, Dragon fruit- 50g, Grapes- 4, Strawberries- 5, Kiwi- 1/2, Almonds- 10, Pumpkin seeds- 5 g, Roasted dessicated coconut- 5 g, Sugar- 5 g

Method:

Step 1: Mix all the ingredients in a blender except chia seeds, corn flakes and some part of each fruit.

Step 2: Add to the bowl add chia seeds, all corn flakes.

Honey Almond Shake

Ingredients: 30 g Kellogg's Corn Flakes Real Almond and Honey, 200 ml milk, One Apple, 6 almonds Honey to drizzle

Method:

Step 1: Blend the corn flakes, apple and milk together in a blender. Pour in a tall glass.

Step 2: Drizzle with honey and garnish with chopped almonds.

Kellogg's Corn Flakes Fruity Yogurt Cup

Step 1: Whisk together the curds, sugar and vanilla essence.

Step 2: Pour half the curds into a cup.

Step 3: Top with Kellogg's Corn Flakes and then the remaining curds.

Step 4: Finally, add the mixed fruits and serve immediately.