Furniture, Garden & Outdoor
GoRevizon Swing Indoor Outdoor Jhula for Home with Stand 300 kg Capacity (Iron Swing)
Dimensions: Iron Frame 48″L x 57″W x 66″H inch.

Material: Heavy Iron Pipe and Galvanized "C" channel swing chair.

Color: Black on the stand, Black and Maroon on the swing chair.

Package Include Swing with Frame and swing chair.

Easy to assemble: Normal Iron Frame and swing chair assembly(very easy) required then ready to use. Swing seating allows you to maintain and entertain with no hassle.

Strong & Durable: Heavy metal frame supports up to 2 people. Swing load up to 300 kg.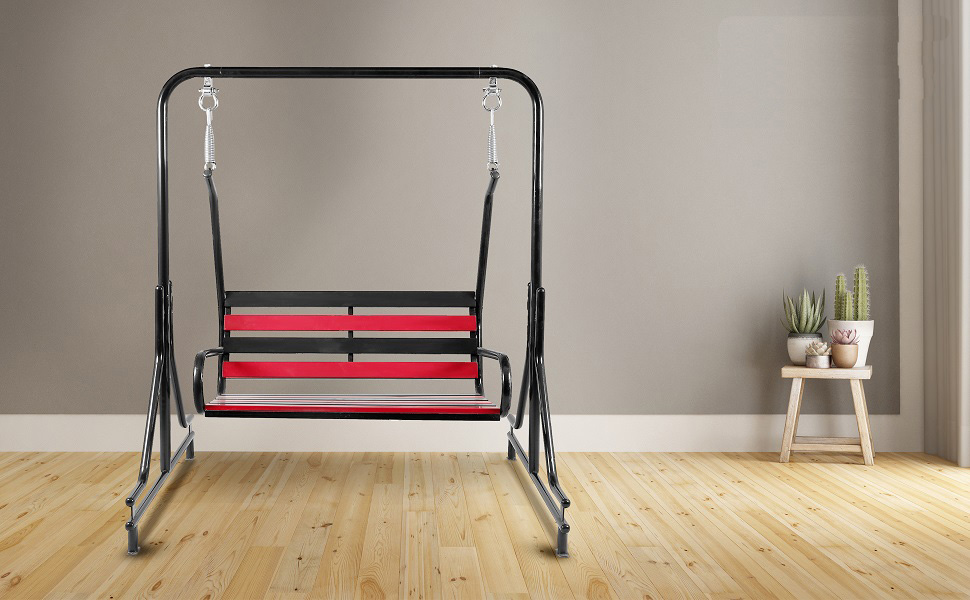 Construction and durability
The swing is constructed out of the heavy iron pipe and the swing chair is made from Galvanized C channel single side powder coating high gloss which makes it durable and unique from other swings. The heavy-duty construction makes it long-lasting and durable for many years.
Easy to assemble
The swing is easy to assemble as it is a normal iron frame where the swing chair already assembled and ready to use.
Finish and Look
The seating has a unique black and maroon combination which adds a natural charm to the swing and the canopy has a red and white combination on the roof which adds a hint of color and completes the look.
Easy to clean
The swing can be easily cleaned with mild water and a cloth. Just one swipe and it is good to use.
Indoor/Outdoor
This swing can be enjoyed in outdoor and in outdoor space where 2 people can enjoy the surroundings while drinking tea, eating snacks, chatting, discussing, spending time together, or just enjoying nature and the weather or spend time at home relaxing.